Here's Who 'Star Wars' Fans Will Want to Cosplay as After 'The Last Jedi'
Cue that familiar musical refrain, because it's almost time for Star Wars: The Last Jedi to take us all back to a galaxy far, far away again. Episode VIII is poised to answer even more of our questions about Rey, Kylo Ren, and our titular "last Jedi," Luke Skywalker.
No doubt, the sets will be extraordinary, the battles will be intense, and the dialogue as poignant as ever. But for some fans, what they're really going to want to take away from the newest intergalactic adventures is a solid source of inspiration for their cosplay-friendly event. From the looks of The Last Jedi's character costumes we've seen already, it's not hard to imagine which looks will be popping up again for next summer's comic conventions, so let's talk about the most imitable outfits in Star Wars: The Last Jedi so far.
Luke Skywalker
Thanks to director Rian Johnson's digital generosity with details, we now know for sure that the title of this newest installment is meant to be a nod to Luke Skywalker, the centerpiece of the Skywalker saga. And while Episode VII: The Force Awakens only offered the briefest of reunions with our pal, it looks like Luke's going to be a big part of the new story, whether he's happy about becoming Rey's mentor or not.
For his newest look, he's got a slate gray hoodie with brown leather trimmings, and not only does it look mighty comfortable, but it also looks really easy to replicate. For Star Wars fans who want to use the at-home force, this will be a cinch. As a bonus, too, the outfit contains a pretty nimble little suggestion that perhaps Luke wars with the Dark Side in his older years, just like his dear old dad did. Dun dun dunnnn!
Snoke
We still don't know exactly who or what Snoke is, but we do know what he (it?) looks like now. Presented in a more clear form this time around, Snoke is more humanoid than some might've expected and is notable for his mangled face, wide-set eyes, and massive forehead and cheek scars. Although it may be difficult for cosplayers to figure out at a way to achieve the look of such mismatched eyes, it's still nothing a clever makeup artist can't achieve. It'll be an especially desirable look for those Star Wars fans who happen to have some height on them because, as we know, Snoke is quite an imposing individual.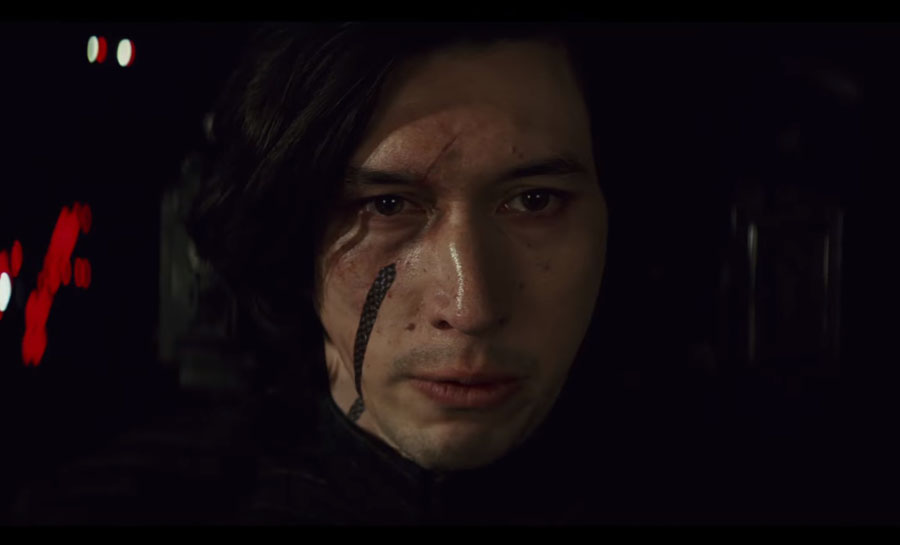 Kylo Ren
Although his costuming in The Last Jedi does not appear to be significantly different, there is something new that should change the way fans channel Kylo Ren in the future: his facial scar. Whereas when we first met him, the lash seemed to extend from the center of his forehead on through the upper bridge of his nose and onto his right cheek, the mark has now been moved a little to the right to bookend his eye — kinda the mirror of what Scarface was rocking, but with scaley black bandaging to accent.
Rian Johnson defended his decision to change the look, writing on Twitter, "It was my decision to slightly adjust it, and that was my justification. It honestly looked goofy running straight up the bridge of his nose." For those fans who might fancy the old look, it's just as easy to achieve as the new one, if not moreso.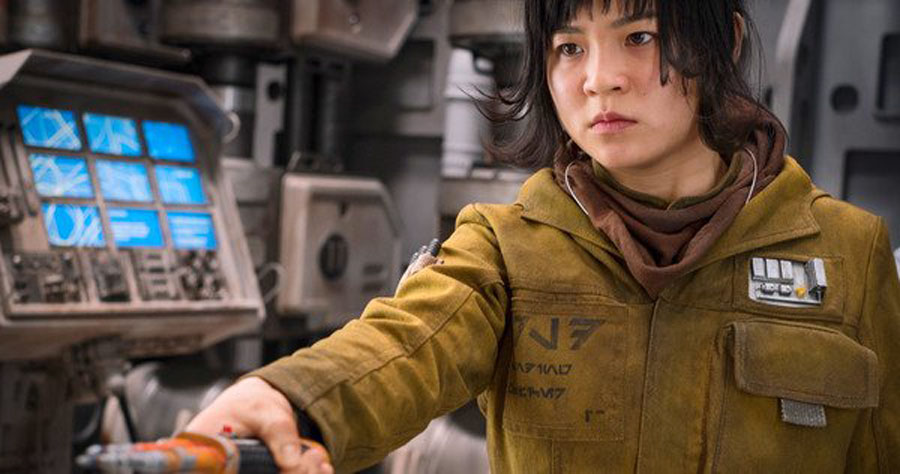 Rose Tico
Actress Kelly Marie Tran will be introducing a new member of the Resistance in The Last Jedi. Rose Tico, a new human character, has been shown sporting a similarly earthy flight uniform style as her new best friend Finn (and apparently faking membership of the First Order by sporting their uniforms as well). What makes her stand out is her Carol Brady-esque flip-out bob with bangs, and you can bet fans are going to have fun bringing her into the costume fold.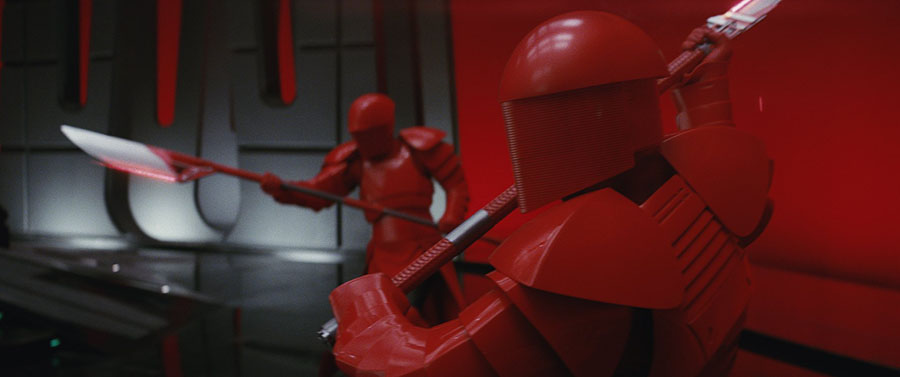 The Praetorian Guards
Snoke's elite task force will make a splash in The Last Jedi, and from the tiny glimpse we've gotten of their fire-red frocks, it's already clear we might be seeing these take place of the ordinary stormtrooper suit in years to come. Because not only is this uniform so bright as to instantly command a room, but the suit's clever combination of ancient armor with almost gaelic warfare dress makes them absolutely fascinating to behold.
Between the slick suit, the anonymizing mask, and the Grim Reaper-esque fire scythe, cosplayers are going to have a lot of fun bringing the Praetorian Guards to their next dress-up day.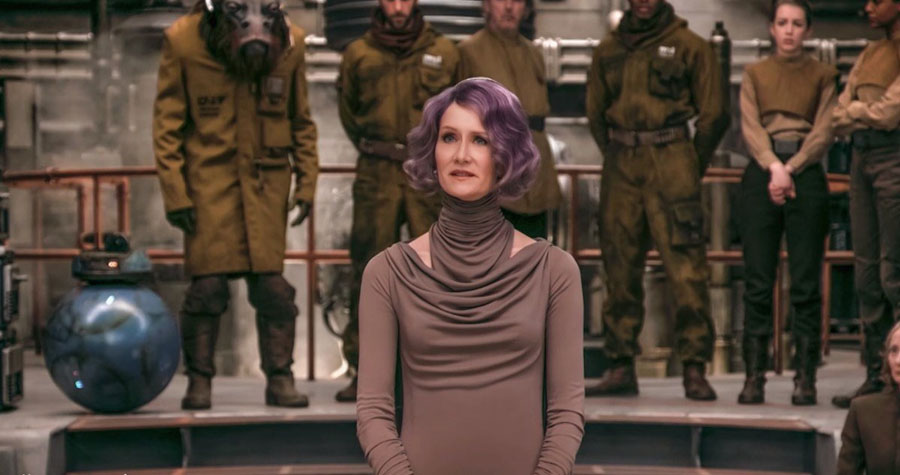 Admiral Amilyn Holdo
Let's be real: Admiral Amilyn Holdo kinda looks like a leftover character from The Hunger Games' capitol crowd scenes. But she's still an instant icon all the same. Her wavy purple hair, dramatic dress flare (that ruched cape!), and high neckline should be pretty easily replicated by any fan with some sewing machine savvy and a choicely-coifed wig. And the fact that Laura Dern's career is so on fire right now certainly doesn't hurt Amilyn's chances of becoming the next big cosplay fave!
Bonus: Doggy dress-up
It's not only us two-legged types who get to participate in all the sartorial celebrations. For those pets who like to suit up in their Star Wars gear as well, there are a couple of new options coming through with The Last Jedi. For starters, the AT-AT machines have gotten an upgrade to the AT-M6s. But more importantly, the new film will also introduce its own new furbabies in the form of crystal foxes called the vulptices. A single vulptex is covered in thousands of CGI-ed on crystals, but replicating the look for pets shouldn't require so much tech, as a simple sweater with raised pieces of fabric and some ear attaches should be sufficient (and keep the creatures a lot warmer than their cinematic counterparts, to boot!).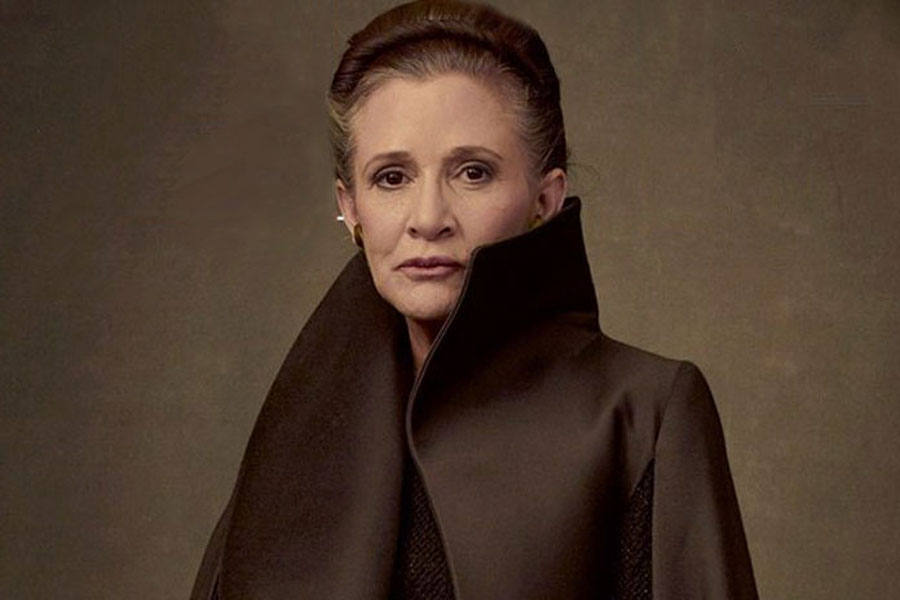 Leia Organa
Princess General Leia has always been a supreme source of costume inspiration, ever since A New Hope dawned 40 years ago. But with the tragic passing of actress Carrie Fisher, her appearance in The Last Jedi will be even more emotional than ever for fans of the fierce rebel heroine.
And just like every film she's appeared in before it, her fashion game is going to be at peak perfection in Episode VIII, with her extremely theatrical coat collar arriving as a must-have item for costuming fans. The garb is so splendid, it wouldn't be surprising to see it in everyday use out and about, but there's no doubt fans will be rocking this look in the cosplay circuits for years to come.